Well, it's finally been revealed, Nintendo Switch a handheld/console hybrid has been briefly shown in the release video below. It was previously known as NX, and is just like what many rumors envisioned it to be.
The trailer shown by Nintendo was only a teaser, and it doesn't include many specifics about the hardware. Yet the press release enlightened everyone, so did some trusted rumors. Here's a quick roundup of everything I know about the upcoming Nintendo Switch.
The New Form Factor
Nintendo Wii was something amazing, Wii U — nothing exciting, just lazy but Nintendo Switch is something that is completely different. Basically Switch is a portable gaming console with a dock that translates content from a smaller screen to a bigger screen. It comes with something called as Joy-Con Controllers.
The Joy-Con controllers can then be used wirelessly to play games from your couch, or they can be attached to a grip accessory to provide a more traditional controller experience. A Switch Pro controller will also be available to use, but will probably be sold separately.
When the console isn't connected to the dock, the Joy-Con controllers are attached directly to the sides of the screen, making it resemble a Wii U gamepad that can function on its own.
Powered by Nvidia
Nintendo Switch is powered by the performance of the custom Tegra processor. The high-efficiency scalable processor includes an NVIDIA GPU based on the same architecture as the world's top-performing GeForce gaming graphics cards.
The Nintendo Switch's gaming experience is also supported by fully custom software, including a revamped physics engine, new libraries, advanced game tools and libraries. NVIDIA additionally created new gaming APIs to fully harness this performance. The newest API, NVN, was built specifically to bring lightweight, fast gaming to the masses.
Gameplay is further enhanced by hardware-accelerated video playback and custom software for audio effects and rendering.
We've optimized the full suite of hardware and software for gaming and mobile use cases. This includes custom operating system integration with the GPU to increase both performance and efficiency.
NVIDIA gaming technology is integrated into all aspects of the new Nintendo Switch home gaming system, which promises to deliver a great experience to gamers.
Cartridges Are Back
The trailer confirmed that the Nintendo Switch uses a cartridge. Nothing was shared regarding the size, or underlying technology, but it is, of course, some form of flash memory, and another sign that backwards compatibility is a no-go.
The Wii U was notorious for its lack of internal storage. You could easily fill the the 32GB system with a handful of games. And if you were unfortunate enough to get the 8GB version, games like Fatal Frame: Maiden of Black Water were completely inaccessible. You could add additional storage through an external HDD, but there was no option for just swapping out the hard drive for a bigger one like on Xbox and PlayStation.
I hope the docking station is hiding a high-capacity SSD.
Games
Yup, the most important part of any gaming console is the games it can play. The trailer opened with a glimpse of the iconic Legend of Zelda. I am yet to see how well the console play the latest titles but considering that this thing runs Tegra processor things might get complicated. Don't get me wrong, Tegra might be powerful but it runs on the ARM Architecture while PS4, Xbox One & PC runs on the x86 Architecture, making it hard for developers to port existing games.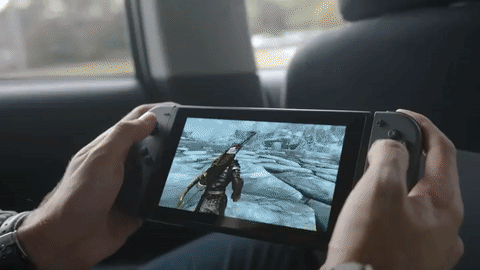 Still Nintendo showed off The Elder Scrolls V: Skyrim on the Switch in its trailer, and announced a long list of third-party development partners that includes Activision, Bethesda, Square Enix, From Software, Sega, THQ, Ubisoft, and more.
It's too early to say anything about the quality and the quantity of the games.
Release Date
Switch is expected to release in March 2017. That gives everyone a lot of time to decide whether or not to buy it.
Source: Press Release